Pays d'Auge Cider
First and foremost, it is an authentic, artisanal product from family-run farms. Proudly rooted in their land and respectful of tradition, these producers have developed a real know-how in the production of this Normandy cider.
Producers Map
Prepare your visit by locating the producers of Cider Pays d'Auge.
21 practical sheets available
Discover Pays d'Auge Cider
Hilly clay soils and a temperate oceanic climate in the Pays d'Auge help cider apples to be naturally high in sugar. Centuries of varietal selection have contributed to a predominance of locally-grown bittersweet varieties that guarantee the typicity of the Pays d'Auge ciders.
Pays d'Auge cider colour ranges from golden yellow to orangeyellow. Its aromas are complex and varied, from fresh butter and fruit in its youth to minty and vegetal understones when matured.
The mouth is round, very fruity and perfectly balanced with slightly bitterness tastes and low acidity. Natural sparkle brings an invigorating freshness.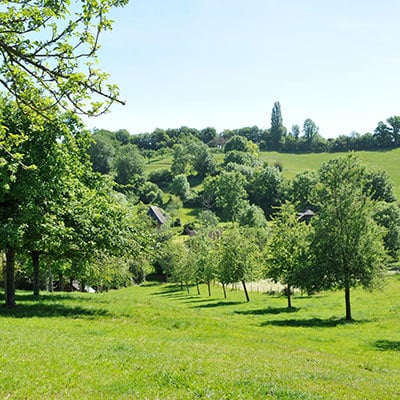 The mild climate of Pays d'Auge and its bocage relief offer a choice setting for the first designation of origin obtained by a cider.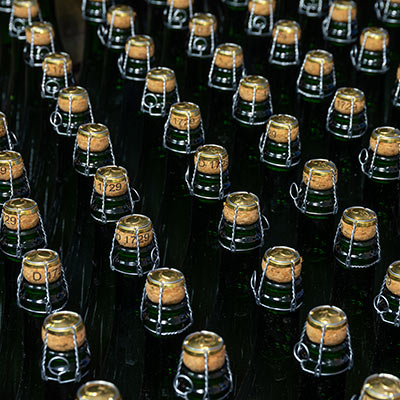 It is produced according to the very strict requirements of the Appellation d'Origine Contrôlée specifications.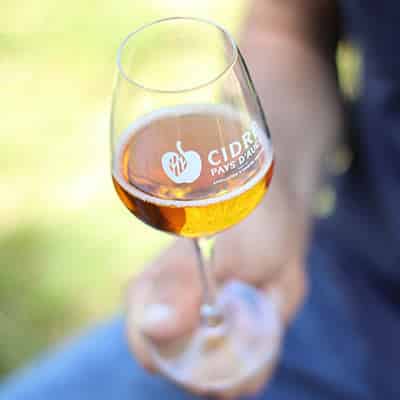 The Pays d'Auge Cider is round and powerful. It is served chilled, around 12 ° C, with white meat or a dessert or a platter of Norman cheeses.