Designation of origin
The mild climate of Pays d'Auge and its bocage relief offer a choice setting for the first designation of origin obtained by a cider.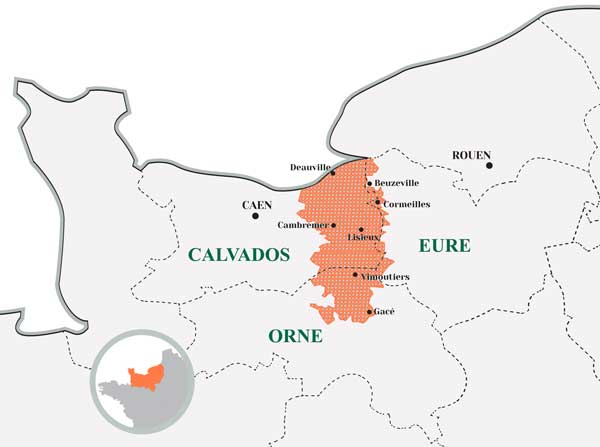 The geographical area of the appellation of origin Pays d'Auge is located in Normandy, in the departments of Calvados and Orne and in some municipalities of Eure, which correspond to the geographical Pays d'Auge.
The western limit stops at the plain of Caen, Falaise and Argentan. To the north is the sea. To the east, the watershed between the Risle basin and the Touques basin borders the geographical area.
The Pays d'Auge
An exceptional terroir for ciders
On this territory, the oceanic climate brings a regular rainfall of 700 to 850 mm per year and a low thermal amplitude. Pays d'Auge cider orchards develop on clay valleys, mainly of flint and chalk clay, with a shallow depth of soil.
The pre-orchards constitute an association of breeding, essentially bovine, and production of cider fruits on the same plots, for the benefit of the two components of the association. Centuries of local varietal selection have resulted in the use of a multitude of varieties rich in tannins well adapted to the soil and climatic conditions of the Auge.
They have a strong natural resistance to diseases, especially those favored by the humidity of the climate. Many of these varieties, such as the estate, windmill, donkey snout, have remained specific to this small region and are still widely used in vintages.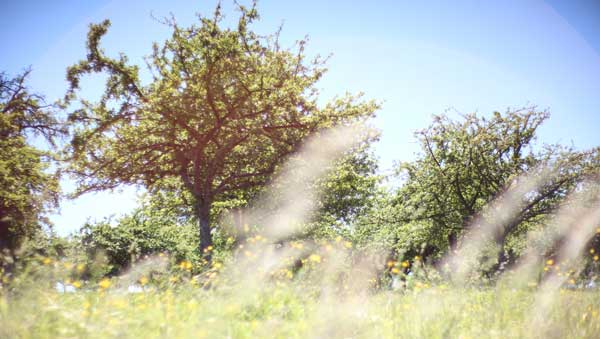 The soil types, the specific varietal diversity of the Pays d'Auge and the regularity of rainfall,
promotes the natural richness of sugars in apples, giving soft, round Pays d'Auge ciders.
48 varieties
used in blending Pays d'Auge ciders.
Améret Argile grise Argile rouge Bedan Bergerie de Villerville Binet rouge
Bisquet Blanc Mollet Calard Cimetière de Blangy Coquerelle Domaine
Doux Normandie Doux Véret de Carrouges Egyptia Fagottier Fréquin rouge Fréquin strié
Germaine Groin d'âne Gros Yeux Herbage sec Jeannetonne Joly rouge
La Pilée Long Bois Mettais Moulin à vent Noël des Champs Orpolin
Peau de vache Pépin doré Petit Jaune Petite Sorte Pomme de cheval Pomme de Rouen
Pomme de suie Pot de vin Rambault René Martin Rouge Duret Rouge Folie
Rouge mulot Rousse de l'Orne Saint Aubin Saint Martin Saint Philibert Solage à gouet